---

































Northern California Real Estate
Northwest Sonoma County and Southern Mendocino County
Recreational And Estate Properties
We have been doing this since 1976
SOLD
$189,731 - 40 Acres
8Q Kelly Road, Annapolis, CA 95412
AP# 123-010-026 MLS# 21320550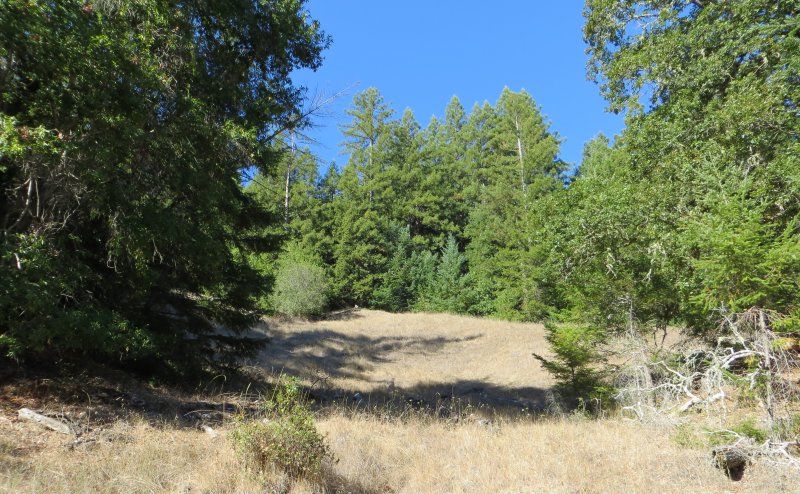 LOCATION

2 miles as the crow flies east of Annapolis. 1 1/2 miles of gravel road via Soda Springs. 20 minutes to the Pacific Ocean at The Sea Ranch. 30 minutes from Gualala, which has basic shopping. 1 1/2 hours to Healdsburg or Santa Rosa. 2 hours and 15 minutes from SF via the coast and Petaluma.

THIS IS

A steeper than average heavily timbered property in the country which is logical for a cabin, small house or a family campsite. About 6 air miles to the coast, the temperatures are moderate. About a week to ten days in the summer could be above 90 degrees. A major factor in its value is the timber on it. This is like having your own redwood park to wander around. Beautiful.

SURVEY

We had the property surveyed by Huffman Engineering. There are metal survey steaks on all 4 corners. The lot lines are flagged. This was done because there is considerable value in the timber and the neighbors all seem to be very interested in what goes on here. We had thought the driveway near the S/W corner was on this property. It was not. There are "Martha Stewart" signs indicating where that corner is which is in the middle of the road. In the original maps selling the subdivision in 1972, it shows the Spring Ridge Road touching this property. When the N/E corner was set, it is in the middle of an old skid road behind the neighbors old travel trailer which is behind his wooden gate from Spring Ridge. Unfortunately, they did not do a great job of detailing this area. They did record a survey map in 1974 after they had started selling in 1972. It did not address the access to this area.

WATER

This property has a lot of water. There are 6 springs identified on the attached NTMP map. In 1906 there was a 2 ac. spring referenced which has been supplying the Annapolis Winery at Annapolis and Sodas Spring Rd. There is an 8 inch water line traveling through this property that is still used by the winery. The winery has been existence for a long time but seems strangely inactive. I have not had a response from trying to contact them. Assessor maps show this spring entirely inside the neighbor to the east. Our survey found this was in error. It borders our east line and is actually on the property to the east. On the flip side, the legal description of the 2 ac. spring places it somewhere in the Sacramento Valley. We have not argued about this access to water near our property line as their intent was logical when they created the easement. A water source has not been certified for a building site. It is relatively easy. Under Class K 1/4 gpm is required.

PERCOLATION

Rob Huffman visited the property again with me in April 12, 2013. Rob had been there previously. The objective was to confirm what he said then. He believes he can obtain approval of a shallow slope 1 bedroom system. The site is marked below the driveway near the s/w corner. He can certify water if you wish. This must be done most years between July 15 and October 1.

UTILILTIES

There is a hard line telephone system available but Verizon makes way more sense. If you want more than 1 instrument you can Blue Tooth it to several hard wired phones around your house. I can show you how. Solar would be primary. It is a good solar site. You should have a backup generator.

BUILDING

This would qualify for Class K requirements which are easier in the country. Safety issues are not changed.

TIMBER

A NTMP Number 1-11NTMP-005-SON is in place and approved. This is a long term timber management plan which allows you to harvest a sustainable amount of timber from the property as you see fit. You can harvest every year or every 5 or 10 or 20 years. To do a timber harvest, the plan alone normally runs $25,000 or more each time. This requires a licensed forester to oversee it. Owl calling must be done for two years before you can harvest. That was done in 2013 and 2014. Comparatively, the costs are minor. This is steep country and tractors are limited to 70% of the property. A yarder is a long cable system used in steep terrain to swing logs through the air on cables to where the truck can pick them up. Taking the figures that were used to obtain the NTMP, the estimate is there is about 252,000 board ft. of redwood that could be harvested now. The ESTIMATED net, net is about $75,000. The other 30% or 108,000 board feet will need a yarder. A guess on that net would be $32,000. That is harder to line up as they are not a lot of them around. It is also difficult as bringing logs downhill with a yarder creates the potential for getting debris in the creeks. Fir value is coming back and we have a local buyer who is interested. There is about 30,000 board ft. of fir and that might represent $6,000 now. Waiting seems logical on the fir for the price to rebound further. There is about 2 ac. of exceptionally good fir in the n/e corner. There is also a substantial # of buckskins. Those are redwood logs that were not taken when they last harvested here which was probably in the 60's. You can sit on the little the 40 ac. cost you and watch the timber grow and harvest when logical. 6/4/14 Randy the Forester agreed a driveway could be put in and creates a loading area and a cabin site. It was finished and winterized in October, 2014. It will require a little TLC in the spring. This work also created a 75 ft. by 60 ft. landing pad and building site. This is about 4,500 sq ft.

TIMBER

Has historically been an excellent investment primarily used by large companies as it takes little management and tree growth runs over 2.5% per year plus the increase in value of the land.

THE NEIGHBORS

They have been interested and concerned about how the property would look after it is logged. Using a yarder is best and cleanest best done by placing it high on the property. Unfortunately this property does not have a good high location for a yarder. We had approached the neighbors offering $20,000 to place a yarder for a month on their property. It would tie up about an acre and require trucks coming to that location. No luck. A serious NIMBY attitude. The new road solved that problem

TERRAIN

Steep. Quite a few old logging trails which make great hiking trails.

WEATHER

Excellent. Rain fall is about 60 inches per year. 2011 & 2012 were about 50% of normal. 2013 was about 75% of normal. There will be 7 to 10 days here you will wonder if not installing air conditioning was wise. Ceiling fans help a lot. You are about 6 miles from the coast.

HOMEOWNERS ASSOCIATION

Created when the subdivision was started in the early 70's. It primarily functions as a road association now. Dues are $125 per qtr. or $600 per year.

THE SELLER

Is an investor who foreclosed on the property in 2012. He will carry paper with a realistic down payment and good credit. The proceeds from the timber harvest will go to pay down or off his note as it is his primary security.

DIRECTIONS Click here for a Directions Map

To the upper building site - take Soda Springs Road from Annapolis Rd. It starts between Annapolis Winery and Star Cross. Just past the end of pavement at 1 mile, turn right after you cross the second bridge. The # 1 signs you will see were put there by me about 30 years ago to direct people to Lot 1 which I sold then. At the next intersection at 1 & 9/10 miles you will see a Mendosoma 3 sign. Go slightly right and down. Right would take you into a private drive which has a # on it. Follow the road to the sign. This places you at the S/W corner which is in the center of the road. To the same location by a different route - take Old Quarry Rd just north of the transfer (dumps) station on Annapolis Rd for 8/10 of a mile. After you cross the bridge turn left. Follow that 9/10 of a mile to the same location. That way is quicker if you are coming from the bay area.
The statements and information we believe are accurate but not guaranteed. We try hard but we are not perfect. Copyright 2015 by Joe White. All rights reserved.
Joe White
P.O. Box 728 - Healdsburg, CA 95448
Tel: (707) 431-2151 - Fax: (530) 566-0356
BRE# 00254845
Copyright © 2013 by Joe White. All Rights Reserved.
Site. designed and maintained by Ed Striepeke