---

































Northern California Real Estate
Northwest Sonoma County and Southern Mendocino County
Recreational And Estate Properties
We have been doing this since 1976
SOLD
$995,684 - 34.11 Acres
Sold For: $985,000 November 2006
989 Tzabaco Creek Road, Geyserville, CA
3 bedroom 2 bath Residence, a Studio
and a 900 ft. Garage with insulation and forced air heat.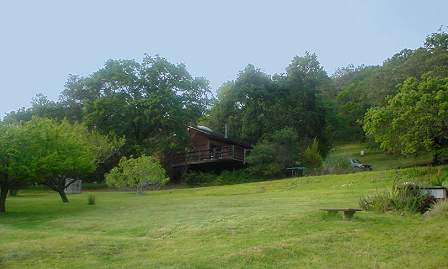 Maps Photos Email Remodel Ideas
LOCATION

This is 1.3 miles up a meandering gravel road along Tzabaco Creek Road. About 1/2 is a redwood forest and then it moves into bays, buckeyes, oaks and grasslands onto the bottom of the south facing slope. It is 12 minutes from Healdsburg Plaza. It is also 8 minutes from Geyserville where you will find two mini marts, two good restaurants, an old time farm store and the things a small farm town needs. If you are a gambler, you are about 12 minutes from the River Rock Casino.

THIS IS

A very close but rural area with a good group of neighbors. It is somewhat rustic but nice and clean. There are changes that might make it more compatible to your needs.

STRUCTURES

The main house is a 1976 three bedroom one bath downstairs and a loft and one bath up stairs. It does not have a master bath. It could. The kitchen, eating area and living room are all open. It is 1,536 sq.ft. Beamed ceilings, redwood, rustic but nice.

The Studio is a legal storage building. It is about 800 ft. and 2 1/2 stories and has recently rented for $950 per month. It is 22 yards from the main house. It does not have windows facing the main house.

The Garage is 42 yards from the main house and wonderful if you are mechanically inclined. It is insulated, well lighted and has a forced air heating system. It is engineered but not permitted and about 900 sq. ft.

The chicken coop is 27 yards above the studio and houses 16 contented chickens and one happy rooster. They are not included, but are negotiable.

There is a storage shed 12 x 21 ft. behind the main house.

TERRAIN

When Jim, the Seller was younger and his 2 boys were home he had trails around the property. They are fairly over grown now but I hiked them. I cannot remember a property with a higher percentage of madrone. The other trees are oaks, manzanita, bay and buckeye. The top of the property elevation is about 760 ft. The house is at about 400 ft. About half of the terrain is around 20 to 25% slope. There are 3 separate benches above the house. The rest is very steep.

VINEYARD POTENTAL

The area around the house is about a 10 to 15% slope. There is all most an acre of unused ground that could be planted in a hobby vineyard. The slope is 10 to 25% and there is evidently enough water. If you took out the orchard and garden you could go another 1/3 ac. The garden area is about 17 yards by 42 yards and you could feed an army from it.

WATER

Well #1 was probably drilled about 1967 when the lot was created. It yields about 2 gpm and was the water supply until about 1996. It is 30 ft deep. The wires above it were the original power lines to it. They have been replaced by buried wire. This well is across the street from the entrance and is on a neighbors land. There is an easement for it. It needs a pressure switch if you wish to activate it.

Well #2 is under the metal box in the parking area as you come up the driveway on your left. It was drilled about 1996 and is 160 ft deep. It produces about 30 gpm. That is a lot of water. The county minimum is 1 gpm. The pressure tank is next to the house. The water is somewhat hard so you might want a water softener.

THE AREA

Nice. You are 15 minutes from so many things to do or places to play. Lake Sonoma, the Russian River, about 30 wineries. Your close neighbors are Trentadue Winery, Chateau Soverain Winery, Simi, Optima and the New Coppola Winery. More good restaurants than you can cover if you go out every night for a week.

WILDLIFE

Your common neighbors are deer, quail, turkeys, raccoons and an occasional possum. You might see a bobcat or a mountain lion. I have never seen a mountain lion.

UTILITIES

Electricity is PG&E. If a tree goes down across a line you could lose power in the winter. Propane is delivered.

EASEMENTS

The road is a surveyed easement to and through your property. Your property line is the center of the road which is 50 ft. wide. There will be a list of several minor ones on the title report.

EARTHQUAKE AND FLOODING

The Healdsburg Fault seems to run south of the property. The maps are not great in this area. It could easily be 3/4 of a mile away. All of the beautiful vineyard's you see as you come back to the highway are subject to severe shaking similar to the Marina Green. This area is not. It is not in a flood plain.

THE WEATHER

It could be better, but I do not know where. You should expect about 7 to 10 days of near or above 100. Rain fall will be about 40 inches. The primary winds are from the north. As you are sitting on your deck facing the road, they will come from your right. Storms tend to come from the south.

FARMING

If a hobby vineyard interests you, the potential is here. The exposure is south. The soil looks good. Water seems ample. It has not been tested for Boron but judging by the fruit trees here there should not be any.

THE NEIGHBORS

I have been up this road several times in the last 20 years and it has steadily improved. We do not have the neighbor from hell here.

- - - - HAPPENS

If there is a fire and you have not created your defense ahead of time, you will not have time then. There are two back doors. They are shown on the attached map. I have rain birds on my roof. They can make a 10 degree difference in temperature in ten minutes on a hot day. They also can wet down your yard and buildings. I can introduce you to the man who invented and installs yard fire suppression systems that are triggered by a fire.

For a country property, the exposure on this property is fairly low. There are properties on the market I will not take you to.

911 is often not efficient. They identify your need and then reroute you into a dispatch center for each type. As you can see below there are several. If PG&E is out the best # is 1-800-743-5000. Have your billing # handy. If you need a deputy 565-2121 gets you into their dispatch. Medical is 576-1371. It is a different dispatch system. CDF is 576-1365. Again different.

ZONING

It is RRD 40 which is a broad classification with a 40 ac. minimum. It cannot be divided. It allows for a primary residence and a granny not to exceed 830 ft. within 300 ft of the main house. The Studio should qualify if someone wanted to.

SURVEY

The property has been surveyed. Recent recalculations indicate it might be 36.71 ac. Many of the monuments in the road have been lost. I might have found one at the n/w corner on top.

PROBLEMS/THOUGHTS/IF IT WERE MINE I WOULD:

The loft would be my office. I would eliminate one bedroom downstairs and make it into a bigger closet and a private master bathroom. There is room to expand the size of the house. Remember, when you live in the country you spend more time outside. You really need less square footage than in town.

Parking is tight. You can handle about 5 cars outside easily. After that you start along the driveway. A bulldozer could change that in 30 minutes.

The Seller is neat and mechanical. He is not an interior or exterior decorator. On the other hand, he has taken my suggestions to heart and is repainting the outside.

THE ASKING PRICE

I look at more country inventory than anyone. It is not something I take lightly. We are dealing with a process of comparing driving times, climate, neighbors, roads and improvements. If I did not think the price is fair I would not have taken the listing.

ROAD ASSOCIATION

There are 13 legal parcels that probably can be built on this road. There are 11 owners and 5 parcels have not been built on. They meet every spring to plan what should be done. They have a long time working arrangement with Clay Green who is a good local earth moving contractor. This is a nice 10 to 15 mph road. Keeping to that speed will help them continue to smile and wave hello when you see them.

The average for this parcel has been $1,000. It's share is 12.5%. There is a formula based on usage and distance. There is about $3,000 in the bank now.

The road did close briefly in '86 and 2006. It did not in '96. That is not to say nothing ever happens. There are a lot of trees and if one comes down someone grabs a chain saw and takes care of it. It happens much less now than 20 years ago. If it involves a power line PG&E will clear it.

Now that there is a good base, if I was an owner I would be suggesting SC70 be applied. It becomes an inexpensive back door to paving. By the second application it looks like a paving job. It seals the road reducing the amount of rain that can penetrate during the winter. It practically eliminates dust. It does not wash away at the first rain like Dust Off. It would run about $6,000 per mile including the water truck. Staying off of it for a few hours is best but you can take it off your car easily with a nice smelling soap they give you in a 5 gallon bucket.

Although the group seems to get along well, there is a wide range of ideas on how things should be done. As you first come up the hill on the right side of the valley there is a place where the road slipped last winter. The creek is right below it. It is a spawning stream and watching the steelhead is fun but they have their price environmentally. Government grants are available to work on roads like this and they are funded from many sources including Fish & Game Hunting Licenses. I do know a consultant who I think is well qualified to help. There is probably some additional attention that comes with the process although they say there is not.

THE SELLER

Is James Hamilton. A single father of two boys and raised them here since 1979. He is now ready to retire and move to the desert which he loves. He is a hand shake person and a pleasure to work with.

SHOWN

By appointment.

DIRECTIONS

North on 101. 5 Minutes past Healdsburg take the Geyserville exit and go left under the freeway. Follow the frontage road South (left) beside the freeway for 3/10 of a mile. Just past the Independence sign on the highway turn right on to Tzabaco Creek Road. The Tzabaco sign sits back from the road. If you pass the sign showing all the local wineries like Coppola you just missed it. Now it is 1.3 miles on your right. It is a nice park like ride. A couple of places are tight but large trucks have done it for a long time. There are plenty of turn outs and if you pass some one they will wave hello and thank you.
Thomas Bros 282 E 6
The information we have gathered we believe is correct. We try hard but we are not perfect. Please consult with everyone you can think of.
Joe White - P.O. Box 728 - Healdsburg, CA 95448
Tel: (707) 431-2151 - Fax: (888) 688-4021
Copyright © 2006 Joe White Real Estate Broker All Rights Reserved.
Site designed and maintained by Web Design & Consulting