---

































Northern California Real Estate
Northwest Sonoma County and Southern Mendocino County
Recreational And Estate Properties
We have been doing this since 1976
SOLD
Being sold by the second owner in 66 years.

$850,000 - Lot 11,600 sq ft or 1/4 Acre
25 Halsey Avenue, Petaluma, CA 94952
A 1948 Retro - 4,300 + Sq. Ft.
2,100 ft up stairs and 2,200 down stairs as a rental?
6b 2 B or a 3/1 up and down stairs 3/1
or renovate up stairs to 2/2. What fits your needs?
AP# 008-256-001 MLS# 21419047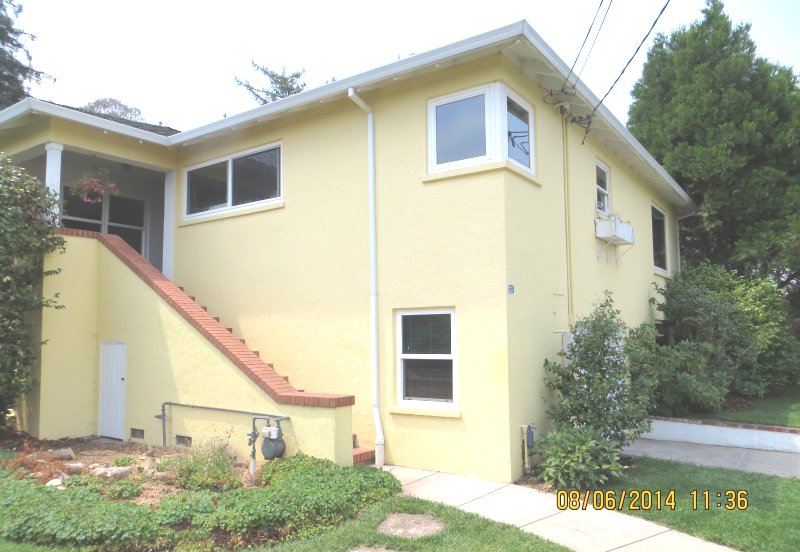 LOCATION

This is on top of a knoll on a dead end street in South West Petaluma. It has views of S/E Petaluma. This is the second time it has been sold in 66 years. Built by Kenneth Colin on what he thought was the best lot on a street where he built most of the houses. His widow sold it to Martin in 1997. It is 1.6 miles from 101 accesses. 40 Minutes to the Golden Gate Bridge outside of commute time. One hour and 15 minutes to either SF or Oakland airport.

THIS IS

A very flexible over 4,000 ft floor plan, Martin is a scientist and very good with his hands. He lived upstairs but when he bought it he renovated the house and brought in data and updated the electrical service to 220. The upstairs has a huge kitchen and what was designed as a formal dining room. Downstairs could be a separate apartment renting for about $2,500 per month. It does not have a separate meter nor a front door. It could be where you house a bunch of children or in laws. The tile is original. There are 7 rooms. One is a very large laundry. The single car garage down stairs is very large. A potential shop, living room or?

THIS AREA

Has a number of families with children and there is not a neighbor from hell here. The next door family has chickens. As you drive up the street they are all retro except the last 3 past this house. # 27 sold 5/14 for $880,000. It was a 3,100 sq. ft. 1979 Fixer. It is now going through what I would guess is as $200,000 + renovation. # 28 is for sale.

SCHOOLS

Grant Elementary (K to 6) is about a 6 minute walk. It is described as the best grammar school in Petaluma. Petaluma Junior High is at 700 Bantam Way. Reviews seem good. Petaluma High is the high school. They are all on the West Side.

THE MAIN HOUSE

Floor plan : PDF File

Was completed up stairs in 1948. There were no city records kept at that time. Somewhere between then and 1971 the previous owner/contractor completed the down stairs. Martin bought it in 1997. His nature is to take things down to bare whatever. That is what he did with his 1966 Mustang. Here he could not see any of the foundation so he had a small section in the garage opened and they found termites. It turned out termites were only in that one small place where they looked. Obviously they were taken care of. There are anchor bolts in the foundation. He added structural bracing for earthquakes by adding 5 ply CDX plywood to most of the down stairs and having sheet rock placed over it. The electrical was up graded to eliminate the fuses and add circuit breakers. The service is 200 amps. There is now 200 amps in 4 locations and data is in 8 locations downstairs. Many of the 110 plugs are 4 bangers. All of the hardwood floors were re finished in 1997. Numerous other little things were done at the same time. The windows have been up graded to dual pane. In 2007 a new 40 gallon water heater was installed. A new 40 year roof was added in 2008. There are insulation bats in the walls. The thick insulation in the attic is some type of a mineral wool. Martin had it tested to make sure it was not some kind of asbestos. We have no idea if there is insulation under the floor. Permits were acquired on all logical things.

UTILITIES

City water and sewer. There are 24 solar panels tied into the electrical system with PG&E after the roof was replaced in 2008. This produces about 5MHw per year (5,000kWh). This was done early in the program and they received a very low usage rate. Their annual bill for electricity has run about $200. I do not know if that rate will roll over to a new Buyer. I do not want to ask to alert anyone. There is natural gas here.

THE TWO CAR GARAGE

Has an electric gate to the back yard. The same clicker operates both of the garage doors and the gate. It is 20 by 26 ft. or 520 sq. ft. The garage occasionally got about an inch of water inside if it rained very hard. Martin installed a French drain behind it and a small sump pump at the back right corner to carry water to the street. There is a large1 car garage in front under the house. The eight foot by fifteen foot play/storage or? room behind the garage has an air compressor which will be left. If the Buyer does not want it I will remove it. It is better than the one I have. It is plumbed in to the garage for running tools and whatever. We hope the new Buyer is handy with tools.

STORAGE

Numerous places located through the house. Way more than normal.

WEATHER

Is classified as Marine cool. It will get hot for 2 or 3 days at a time 2 or 3 times per summer. There is an attic fan. If you want AC it should run about $3,000 to add. Rainfall should run about 25 inches per year. Flies are not a problem in this part of town.

THE YARD

Has an irrigation system. There is a storage area for tools under the steps. There is a garden area with raised beds and a drip system. The barbeque is built in under the covered patio.

EARTHQUAKE

The Tolay and Burdell faults are over 3 miles away which takes them out of normal harm's way.

RANDOM THOUGHTS

When I take a listing I tend to think of it as mine so I often say we. It is actually Martins and Julia's property. Martin is by nature well organized, mechanical and good to deal with. He has taken excellent care of the property. Roof, structure and bug inspections were done. It has fresh Kelly Moore semi gloss paint throughout. Semi gloss is not normally used in new houses because it does show imperfections in dry wall more than flat. It also is far tougher and holds up very well under washing. The color is Frost. The carpet down stairs is tired. We decided not to change it as whatever we did we figured had a high probability of being wrong. It was just shampooed. If it were mine I would take the back corner bedroom and convert it into a master bath & closet. Make the upstairs bedroom a study room or office. When I was raising 7 children I would have stuffed them all down stairs, made the room with the sink another bathroom just for the 5 girls with lots of hair dryers. My wife loves the house. We hope you will enjoy it.

PROBLEMS

This is a 66 year old house. We try hard but it is not perfect. The inspections covered roof, structure and termites. A few were found in the area under the stairs and we are guaranteed they have been annihilated. Those complete reports will be delivered including termite clearances when we are in escrow. Petaluma is in the process of receiving the building records from Sonoma Count in boxes. Basically no records were kept prior to about 1960. I have copies of what the county had and they are included in the Disclosure Package which you will receive when we are in escrow. We did not add a splash guard around the entire house to draw water away from the house that they suggested. We also did not add a railing to the front door; add a curved wall attachment to the railing going down stairs nor an air gap for the dishwasher. They also wanted us to replace the back garage door due to a very small area indicated. I looked for it as shown 2 times then with the contractor one time and we could not find what the inspector showed in photo # 8. My guess is the photo came from another property by mistake. There were lots of other little things that you will see in the Disclosure Reports that were all done. There was a key pad for the gate to the back yard. An inquisitive young boy managed to operate it and catch his fingers in the gate. The key pad is gone. The boy's parents were very understanding and it did not create a problem. The alarm system just died and it is overdue to be up graded. Cameras would be logical. We missed replacing the screen on the back door from the living room. It is tired.

GUIDELINES FOR AN OFFER

Martin usually has a murderous schedule which often takes him out of the US. You should give us some background on the Buyer. The Disclosure package will go out by e mail to all after we are in escrow. To speed the process the following will be included in the contract:

1. All offers will be by e mail. They will include the Buyers e mail address. Martins is martin@fornage.net Tony Parish is a co listing agent. His e mail # is tony.parrish@pacunion.com

2. Communications will be to all principals and that statement should be included in the contract. They will be by e mail and will include the Buyer, escrow officer and the mortgage broker. REPLIES WILL BE TO ALL.

3. If you are not locked in to an escrow officer my first choice is Nancy at nancy.avansino@fnf.com 707 433 5440.

4. The escrow officer will include the e mail address for all in the Open Order form and it will distribute it to all to look for errors. Ninety percent of the errors I have seen at closing were in the original Open Order Form which is not normally circulated.
The statements Provided herein, while not guaranteed, are secured from sources we believe to be authoritative. In other words, we try hard, but we are not perfect.
Joe White
P.O. Box 728 - Healdsburg, CA 95448
Tel: (707) 431-2151 - Fax: (530) 566-0356
BRE# 00254845
Copyright © 2014 by Joe White. All Rights Reserved.
Site designed and maintained by Ed Striepeke