---

































Northern California Real Estate
Northwest Sonoma County and Southern Mendocino County
Recreational And Estate Properties
We have been doing this since 1976
SOLD
$341,137 - 3 Structues - 36 Acres
1101 High Road
Cazadero, CA 95421
30 minutes from the Pacific ocean at Fort Ross
About one hour from Safeway at Guerneville
2 miles of gravel road
AP #107-130-028 - MLS#20903934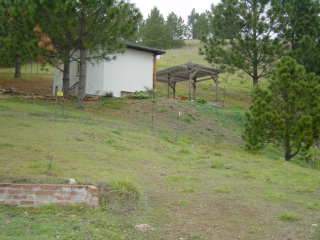 THIS IS NOT

The Sea Ranch. If you like rules and regulations, including what color your drapes can be, stop reading. It is worth looking at if you like rolling to steep gassy hills with views of wooded hills and a peek at the Pacific Ocean from the very top of the property.

THE STRUCTURES

Are combined to what I call elegant camping. If you want a place that is not tied to a lot of upkeep this might fit. On the other hand if you want a real house the hard part is done.

THE CHATEAU/CABANA

Is about 50 ft. above the best building site for a house or cabin. The foot print is about 18 ft. by 18 ft. or 324 sq. ft. About 2/3 of it are closed in. It is John's bedroom and outdoor kitchen. The stove is propane and obviously hooked up to the rented propane tank by the driveway. The pantry has a nice hanging 12 volt refrigerator. There is an outdoor heater and 2 canvas panels that drop down if the weather dictates it. It has a very Mexican comfortable feel to it.

The grapevine covered arbor is the outdoor dining area with a small flower garden. Although the sewer line is here there are no hot water nor toilet facilities here. This was built without permits and could be easily called storage or a spare bedroom if you build a house here. A window is roughed in and it would be fairly easy to add a loft.

THE GAREDN SHED

Is permitted but not signed off. It has a concrete floor, stucco and a red tile roof. It is 10 x 12 and has hot water, storage, a sink, toilet and an outside shower. John describes the shower as "the worlds most beautiful" is a little strong. It is nice. The outside claw foot tub is subject to negotiation and John has an attachment to it.

THE SELLER

I am diverging here a little from my normal outline because it fits the situation. John is an attorney with an interesting enjoyable personality with a variety of interests including gardening and chickens. He tries to help people and has allowed Howard and Tracey to camp out on his property in the trees below the garden. They are moving now. He was told by his mother that if you can read a book you can learn to cook and build things. He can read so he has built everything here except for the green house. The Garden Shed was permitted but it was a fight.

Building inspectors come in all types and sizes. A few are not nice to deal with. The regulations state that you can build a non permitted structure not to exceed 120 ft. of floor space. The inspector measured the outside walls which is the normal way an architect or appraiser measures and came up with 121 ft. He wanted to red tag it and John to pay fees and fines. John said it says "floor space." John won and it is now almost a legal structure but he did not feel like going through that process with the same inspector so the Chateau was built with out permits.

THE GREEN HOUSE

Is about 8 x 10 and works but it was not built by John and is not up to his standards.

THE HEN HOUSE

Is about 10 x 10 and handles 24 hens and one happy rooster nicely. There are 9 nesting boxes designed so you can collect the eggs form outside.

THE SMOKE HOUSE

Is about 4 x 4 ft and 8 ft high. The separate fire box allows you to cold smoke a whole deer or pig very nicely.

THE LAND

Is a square parcel, 36+ acres, approximately 1/4 mile per side. It is on Creighton Ridge in the western part of Sonoma County, about halfway between Cazadero and Fort Ross. Creighton is the second ridge in from the Pacific, which is about 5 miles to the west for a crow. Marine air is mainly blocked by the first ridge. Usually there are two or three heavy frosts per winter. In the summer it is, of course, warm and dry. Air conditioning would be nice for 7 to 10 days per year. Nights always cool down.

All nearby parcels are also 40 acres—so there are neighbors, but not too close.

It is all south sloping rolling hillside and includes the summit of the hill. It is almost entirely covered with grass, dotted with oak and bay trees. It is, in my opinion, very beautiful and has beautiful views. Though it is hilly, one can walk over nearly every inch of it. There are several flat areas for building, including one site at the end of the driveway which is the most obvious choice.

THE ORCHARD

Is 50 ft. by 250 ft. which is 12,500 ft which is double your average subdivision lot. It is double fenced and the fence is buried about 18 inches. Your visitors are wild pigs, deer, raccoons gophers, rabbits and so forth. It works. It has five mature table grape vines of various sorts, a dozen mature fruit trees including apples, pear, persimmon, plum, figs, pomegranate, quince, peach and what John describes as his fabulous mulberry. The lime and lemon trees have not done well. There are also 5 brick lined raised garden beds 5 x 20 ft. which have strawberry and asparagus in them.

Above the cabana there are about 12 mature Mission olive trees. They bear alternate years. Enough for home curing but not enough for olive oil pressing.

WATER

There are several springs and a year-round creek. One of the springs has been certified by the County at 2 1/2 gallons per minute in a fairly undeveloped state. More could be obtained easily. (One needs 1/4 gallon per minute to get a building permit.) The water taste is good. There is a 2500 gallon tank near the spring. Next to the tank is a gas-powered pump which pumps the water uphill through 2 inch buried pipes to two 2500 gallon tanks near the summit (but surrounded by pines). One of those tanks feeds, by a buried 4" line, to a fire hydrant by the driveway. The other feeds, 1" buried lines, to various spots on the parcel including the garden.

Right by the big spring there is a small, well protected, very damp south-facing area which I think, has a sub-tropical micro-climate. It is only about 40 by 40 or so — but I think it could be cleared to plant a garden of banana, avocado, mango, etc.

When I sold the property to John in 1995 Ron Degeorge who owns lot 36 S/W of this parcel retained the right to take 1/4 of the unused water from below the collection system. This is a very good spring. It has never been fully developed. He at that time had a restaurant and he supplied all his vegetables from here. He would have to develop his own water delivery system below the present system. He has never done so. If you buy the property you would see reference to a ram water driven system which expired shortly after John bought the property.

USAGE

An excellent combination of location, area, terrain. You could retire here or it would make an excellent retreat.

DO YOU WANT TO BUILD?

If so all you need to do is get your design approved. The septic system is in and the pipe is installed. The Department of Emergency Services wants the driveway set up for 2 lanes. Other than that it is done. The fire tank is in. The water is certified.

THE AREA

In 1970, you could create a "paper" subdivision. Now to divide a large parcel (2,500 acres), would take millions of dollars for curbs, gutters, etc. There are about 70 parcels. Most are undeveloped. A very few are junk piles. The vast majority are nice. Most areas have a feeling, which is a combination of your attitude and their attitudes. I have found people here to be open, friendly and helpful. The people who live here are not conformists, but they obviously work together.

GUALALA RANCH

Is the name of the subdivision. $400 per year normally covers the local volunteer fire department and the road system. There is a right of first refusal on all properties in the Gualala Ranch. Owners of other parcels can match or exceed the agreed upon price and terms of an outside buyer and purchase within 30 days from notice by association secretary. Ownership of each parcel includes use of six other parcels: one has a small lake, another a barn and the third is a large field of bracken ferns. They are #'s 7, 14, 15, 16, 49 & 52.

UTILITIES

There is a propane tank near the driveway with buried lines to the garden shed and to the Chateau. Electricity: PG&E is too far to consider. There are 4 PV panels, 8 golf cart batteries, and various electronic doo-dads which produce lights, stereo, computer, refrigerator and freezer. There is a satellite dish for an internet connection. There is no TV connection, but it could easily be installed. There is no telephone connection at present, but there is a buried telephone line along the road and there could be a landline hook-up at modest cost. Cell phone connection depends on the service provider. I use Verizon and the service is good. A $300 booster can be added if desired.

NEIGHBORS/PROBLEMS AND OTHER INTERESTING THINGS YOU SHOULD KNOW

John Fox painted the landscape hanging in John's bedroom. He is a nice guy who has lived right below the S/E corner of this property for about 40 years. A prescriptive easement is gained over the adverse usage of another's property. John Fox confirmed to me on October 28,1995 that he was using the driveway and taking water form the stream on this property because he had been given permission to do so. On October 23 1996 John, our Seller wrote him a letter confirming that his situation was at the peril of the owner of this property. It has never been a problem and he is a nice guy and it does not seem to hurt this property. The spring is called Pig Spring. That is a clue. I can show you how to automate the pumping system which you have to manually start and 40 minutes later, turn off.

The CC&R's state that the present property owners have a 30 day right of first refusal from the time they are notified by their Secretary. I have never seen an option exercised.

Petunia is the name of the exuberant yellow lab who will greet you like she is the hound from hell. Then she thinks you are there to play fetch with her.

Mitoma is steep and expensive to maintain. It is bouncy. If it is raining they appreciate you making the bigger loop up High Road.

This property had been known as 34 Rocky Road, 24255 Rocky Road, and 1101 High Road If you buy a property from me please feel free to ask for my hind site. I could have saved John some of the problems he dealt with.

Change is always resisted. A few people had resisted the idea of street signs. Now they are used to them.

This area has a lot of springs and is a relatively good water area. Almost all of the non developed portions of Sonoma County are classified by the county as water scarce. How they established this was any area they didn't see wells on their maps, they call water scarce.

The county is now fighting a state plan to create a draconian set of septic syste4m regulations that will effect every non subdivision on sewer property in the state.

THE WEATHER

Cazadero has a weather reporting station that has made itself famous. The rainfall here actually averages 75". There is a long strip of area along the coast about 5 miles inland, where the rainfall is heavy due to the storms hitting the first hills as they come ashore. It does rain harder, but not necessarily more often. I live in a slightly lighter zone and happily live with it and enjoy the lack of fog.

PRICE/FINANCING

My listings have averaged selling for 97% of asking price for years. This is a very fair price and he is firm. I hold a $200,000 note on this property

LOCATION & DIRECTIONS

It takes 1 hr and 20 minutes. from Santa Rosa at 101 to get to the property. Hwy 101 to River Road (116) right to Cazadero, then bear left on Fort Ross Rd. In 13.5 miles or 25 minutes. from 116, turn right on Niestrath. If you come to Bohan Dillon Rd., you just missed it.

Follow this from Fort Ross Rd: On Niestrath, 6/10ths end pavement, 1.3 miles left up hill at Mitoma, 1.8 past Precious Mt. Vineyard, 2 left at T, 2.3 past red roofed fire station, 2.4 left to 1101 High Rd and the property line.

SHOWN SHOWN

By appointment. The gates are not locked. There is a lock box. Agents—send the seller an email to Johnplotz.now@gmail.com letting him know you are coming. He rarely turns on his cell.
The statements and figures presented herein, while not guaranteed, are secured from sources we believe to be authoritative. In other words, we try hard, but we are not perfect.
©2009 JOE WHITE
AP# 107-130-27 Thomas Bros. Map 10-64
Joe White - P.O. Box 728 - Healdsburg, CA 95448
Tel: (707) 431-2151 - Fax: (888) 688-4021
Copyright © 2009 Joe White Real Estate Broker All Rights Reserved.
Site designed and maintained by Web Design & Consulting