---

































Northern California Real Estate
Northwest Sonoma County and Southern Mendocino County
Recreational And Estate Properties
We have been doing this since 1976
SOLD
$343,388 - 40 Acres
22910 Noce Road AKA 36670 Noce/Little Creek Road
Annapolis, CA 95412
2 bedroom 2 bath Modular Home 1,120 Ft.
15 minutes to the coast. 30 minutes to groceries. 1.4 hours to Healdsburg
AP# 122-080-035 - MLS #20903919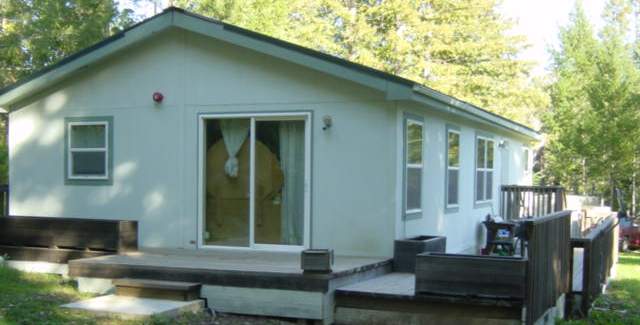 THE HOUSE

A manufactured or modular home is a far cry from what we used to think of as a mobile home. Their standards for electrical, insulation and so forth are approved across the United States. Their foundations are engineered for earthquakes. The exterior is Hardy Panel which is manufactured from Cement and looks like wood. They use 2x6 studs in the outer walls. It is true that these appliances are a minimal quality. There is a dishwasher, garbage disposal and hookups for a washer/dryer. The flooring in the living room, bedrooms and family room are parquet/composite material. The rest is linoleum. The roof is metal. The siding is Hardy Panel which is fire proof. . The building site is on a narrow ridge. There is enough room to park about 4 cars. You could build a carport. There is a 10 ft. by 10 ft. concrete block building that was required as a fire safe location if someone was impaired and could not evacuate in case of a fire. These are often used for storage. The yard area is small. There is an estimated 400 sq. ft. wrap-around Redwood deck. The views are of the surrounding timber covered hills. If it was mine, I would open up the views some more.

THIS IS

1.6 miles down a gravel road of which 7/10 are down a private road used by 3 people. That portion of the road is steeper and narrower. At 1.3 miles you pass Dave's camp. It is not neat and tidy. He comes here about 2 times per year. He is a police dispatcher from southern California. He has not responded to efforts to get him to tidy up. At 1.3 miles you pass through Joe and Sue's property. They are extremely nice and have worked hard on their property. They have great views. The main road is covered with an informal road association. No funds have been spent on it in the last 5 years. It runs along a ridge and could be maintained better. Oiling it with SC70 would cost about $7,000 per mile and would shortly turn into an inexpensive paving job. The final 3/10 have been taken care of by Joe with his toys. He has been reimbursed by his two neighbors.

CONSERVATION EASEMENT

CONSERVATION EASEMENT Sonoma Land Trust holds a Conservation Easement on the property. The easement was designed to protect natural resources while permitting limited timber harvest over time. The next harvest would be in 2011.It provides goals and restrictions for the management of the forest and establishes a 1-acre building envelope surrounding the existing residence. Sonoma Land Trust visits the property at least once a year and coordinates with the landowners on activities related to the conservation easement, such as timber harvesting or road construction. Sonoma Land Trust staff is available to answer questions about the easement stewardship.

It is a +20 page document which goes hand & hand with a NTMP Timber Harvest Plan which is approved. This is a benefit to the property owner which has cost the seller about $50,000. An over simplification is you can harvest 10% of the standing/harvestable timber per 10 years without filing another Timber Harvest Plan. You will need to do a cruse each time. You can ask permission from SLT to build non living structures out side the 1 –acre building envelope. This property was intended to supply housing for employees and redwood for the Sellers business. The limitations are not onerous and I believe they reduce the real estate taxes. They do not limit cutting firewood for personal use, hardwood trees under 24 and fir or redwood under 10 inches. SLT can be reached at 966 Sonoma Ave., Santa Rosa CA. 95404, (707) 526-6930.

TIMBER VALUE

It is in one of the best Redwood growing regions in California. There is about 450,000 standing board ft. of timber on the property. About 80% is redwood which is now selling for about $735 per 1,000 board ft. I have seen it as high as $1,500 per 1,000. $900 per 1,000 board feet is a rough average. THE MAJOR FACTOR IN THE SELLER BUYING THE PROPERTY WAS THE TIMBER VALUE. It appears that about 50,000 board feet could be harvested in 2011. The Trust receives 2% of the gross dollars. A wild guess is it would yield about $16,000. net based on today's prices.

A NTNP

Creates a long term timber harvest plan and you do not need to do repeated Timber Harvest Plans which run from $25,000 up. The NTMP is to promote sustainable growth/harvesting. Two percent of the probable 50,000 board ft. value would be paid to the Sonoma Land Trust who is the holder of the Conservation Easement. This is an excellent program and well worth doing. The Seller is very interested in buying the redwood for his furnature manufacturing business.

WATER/LITTLE CREEK

Is a beautiful year round stream. Due to current forest practices, very little can be done within 100 ft. of it. There are skid trails leading down to it.

House water is from a well behind the house. It is 1.25 gpm. The well is 122 ft. It is pumped up to a 5,000 gallon storage above the house which is very close to the property line. If you stand with your shoulder against the cinder block building and look over the peak of the roof on the house, you will see it. One half of it is reserved for domestic use. The other half is reserved for fire protection. There is a fire hose hookup on your left just past the house. If this house was mine, I would put a rain bird on top of the house. CDF maintains a fire station at the Sea Ranch on Annapolis Road. It is about 10 minutes away. There is also an active Volunteer Fire Dept in Annapolis.

PG&E

Is underground. When you see my sign that is on the property line, look back to your right in the bend of the turn and you can see the top of the cement utility box. If you back up 50 yards you can see the top of the water tank

THE AREA

Annapolis was the refuge of a movement away form the city around 1970. The influx has melt with the somewhat conservative inhabitants that preceded them. The logging industry was the main generator of income. It has now taken second place to vineyards. Many of the environmentalists in the area have now taken aim at vineyards since they have little logging to work on. The vineyard income has not made much of an impact in the local economy since vineyard workers are typically close to minimum wage workers. This has left the coastal corridor and places like The Sea Ranch as the biggest impact on the local economy. Many who work there cannot afford to live there and many who could do not want any part of the harsher weather nor the rules. They even control the color of your drapes in the Sea Ranch. My typical buyer is someone wanting a rural primary or second home.

There were several subdivisions created primarily by timber operators. This one is very informal and done by the Evans Lumber Co. You cannot build any "shaky" structures, breed animals or keep any animals except horses, cats, sheep and cattle. They reserve the right to decide if you are operating an obnoxious business. I have not heard of any type of enforcement. I have not found where they created a formal road association. One would be a good idea on Noice. It sits on top of a ridge so it needs little maintenance but some would be nice.

THE TENANTS

Are Fausto and Angelica. Her English is very minimal and his is a little better. Their 7 year old son Bismarck speaks excellent English. Agents, call 338 7284 to say you are coming. You might say one hora or dos horas meaning you will be there in one or two hours. They are very nice. The Seller has another place for them to rent if necessary when this is sold. They are paying $1,100 per month for rent.

WILDLIFE

The elk are gone but everything else is here, deer, turkeys, quail, pigeons, mountain lions, foxes, raccoons mice, owls and so forth.

EASEMENTS

I have not found any except the conservation easement. There may be an easement to the bottom of this property but the road is not open. You would access it just across the bridge on your left as you go to Brushy Ridge Loop..

WEATHER

This is about 700 ft. elevation so you will be above most of the coastal fog. It is about 2 1/2 miles from the coast. I would expect from 60 to 65 inches of rain per year. About 1 week of temperature in the 90's. You should not need air conditioning. Average summer will be in the high 70's to low 80's.

EARTHQUAKE FAULTS

The San Andreas Fault is about 2 miles west. The Toombs Creek Fault is about 5 miles east. Neither looks like a consideration.

FINANCING

There is an existing private first of $215,000 through me.

VALUE

There are 5 separate 40 Ac. properties besides my listings on the market in the area. I am not permitted to comment on a specific property value by the MLS rules on my web site so I will not. I am familiar with all of them. I probably have sold more of these type of properties than everyone combined. I think the price is fair.

TERRAIN

Except for by the house and a small area along the creek, it is very steep. There is a system of old skid roads that make excellent hiking or 4 wheeler trails.

SEPTIC SYSTEM

It has 267 ft. of leach lines on the plateau to your left below the house. The septic tank is behind the cinder block building.

THE SELLER

Raul is a very interesting guy with a good business mind and an organic/green thought process. His primary motive in buying the property was an investment and the timber value to his business. He sells redwood furniture. His web site is www.oldgrowthagain.org. The business has grown tremendously and his client list is quite spectacular. Expanding the business takes cash and he needs to put his equity form here into the business. He would be a ready buyer for the redwood here and could take care of everything needed to be done including harvesting the timber.

PROBLEMS

There is no effective road association and there should be on the upper road. No strong personality has come forth. If you are the one, I will help you.

The Conservation Easement is a little bit of a pain but it comes with a NTNP which is a big positive. At today's prices you are looking at about $500 per thousand net. $20,000 is a good bonus every 10 years.

The Modular home has good bones. As the appliances and flooring wear out, they can be upgraded. The man in charge of the final on the house got sick. The tenant is occupying it on a temporary permit. It will be taken care of shortly.

The neighbor Dave is not neat and tidy.

DIRECTIONS

Coming from the coast go east on Annapolis Road. Pass over the two bridges on the Gualala River. On the top of the ridge turn left where you see all the real estate signs except mine.

Coming from Healdsburg it is the second road on your right past the post office. It is about 1/2 a mile. In 2/10 turn left at the Noice sign and follow my blue arrows. At 1 1/10 mile turn right at # 36670. At 1 2/10 you pass Dave's camp. 1 3/10 you go through Joe and Sue's compound. Having a good neighbor who has toys is very nice. At 1.5 you come to the property line.
The statements and figures presented herein, while not guaranteed, are secured from sources we believe to be authorities. In other words, we try hard, but we are not perfect.
©2009 JOE WHITE
AP# 107-130-27 Thomas Bros. Map 10-64
Joe White - P.O. Box 728 - Healdsburg, CA 95448
Tel: (707) 431-2151 Fax: (888) 688-4021
Copyright © 2009 Joe White Real Estate Broker All Rights Reserved.
Site designed and maintained by Web Design & Consulting