---

































Northern California Real Estate
Northwest Sonoma County and Southern Mendocino County
Recreational And Estate Properties
We have been doing this since 1976
SOLD
$1,475,312 - 29.3 Acres, 15 +/- to plant
Sold For: $1,360,000 November 15, 2006
10600 Westside Road Healdsburg, CA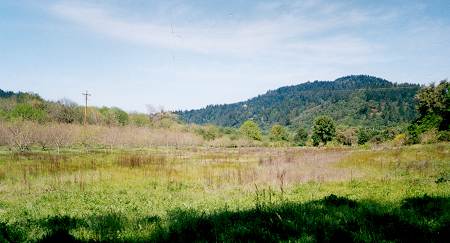 THIS IS

An extremely nice residence or possibly a winery site with vineyard ground to plant and Russian River frontage. Westside road is a two lane country road.

LOCATION

15 minutes from Healdsburg, 4 minutes from River Road, 18 minutes from 101 and 25 minutes from Jenner at the Pacific Ocean. This is in the Russian River Viticultural Area. The nearest vineyards are Moshian, SLJV, Vino Farms, Great Oak and J Wile.

THE BUILDING SITE

Is about 60 yards from Westside Road but totally screened unless you build a two story house. It is a Scenic Corridor and that might not be possible. It will cost $539 to go through their design review that makes sure your home does not stand out. The knoll offers the best building site. It is not huge. The second site is 100 yards to the south and smaller. If you want a big house, you might build across to it. There is a house like that on Rockpile Road. The knolls are above the ten year flood plain plus the 100 ft. setback requirement.

THE RUSSIAN RIVER

Is your primary neighbor. There is about 2,400 ft. of frontage. I think I could land a float plane on it. The bank is somewhat steep but I have found one place where you could launch a boat and put in a small movable dock to swim from. YOU HAVE TO BE VERY CAREFUL OF WHAT YOU DO TO OR ON THE BANKS OF THE RUSSIAN RIVER OR IN THE FLOOD PLAIN.

THE FLOOD WAY

Is a restricted area where you cannot put up things that would impede the flow of water. This obviously allows a vineyard, orchard, etc. It covers about 2/3 of the property or 1/2 the area to plant. The FLOOD PLAIN is the next buffer. It allows structures but not habitation. You could build garages, barns, tennis courts, etc. The ten year flood elevation is 67 ft. which is at the toe of the knoll of the building site. One hundred year is 73 ft. In mid February 2004, we had flooding along the Russian River. I went to the property expecting it to be half inundated. It was not. I did find a fair amount of flooded vineyards and ruined cars in many areas. The river had barely left its banks on this property.

WATER

The property includes water rights that allow the use of 20 acre feet of water. There are provisions until 2011 to increase the allotment. I do not think it is needed. The well is on the third knoll by the driveway and certified on 8/23/03 for 7.5 hours at 9.7 gpm. The water was slightly hard for domestic use. Plan on a water softener. This property also seems to own the water rights for a 40 acre additional property above it.

PERCOLATION

We had Rob Huffman do the work (707-823-2190?). All the testing and the TOPO are done. The two knolls are called Sites 1 and 2. They each have the ability to carry from 3 to 5 bedrooms and their expansion area. It will cost about $1,200 to design each system and about four months to get approval. If you decide you need less than six bedrooms, I would suggest using Site 2 and a small pump which costs less than $1,000 to pump to it. This leaves your building Site 1 free from any restrictions. We did not design a system because we do not know what the end user will need. We did not examine the area more than 100 ft. from the well nor south of the driveway into the fields as it did not look like it would be needed.

VINEYARD POTENTIAL

It looks like about 12 to 15+/- acres could be planted. This is obviously a very good area for pinot or chardonnay. We have water. The soil looks very good. It looks like you could plant to within 100 ft. of the river bank. We have met with the logical people about the development problems and possibilities and that is in the Disclosure Package. We have not found anything unusual or serious.

INDIAN ARTIFACTS

We paid for the report that basically says there are some signs of Indian activity on the knolls, but nothing serious.

TERRY HARRISON

Had farmed this for the last 20 years. The trees with the prickly case over the nut are chestnuts. The apple trees are mostly cider.

NEIGHBORS

The stucco older house across the street is owned by a reporter who specializes in farming. Gary Ferrell Winery is across from the building site. Their facilities are quite a way up the hill. To the west is a vineyard owned by a company from Lodi. To the east is the Russian River. When Terry started farming here in '83, he was concerned that there might be problems from people coming in from the river. There has not been. To the south is the Sonoma County Water Agency. There will be some road noise from Westside Road. I do not have the feeling that it is a heavily traveled road. There is a 10 ft. dirt bank on part of this. I do not think traffic will be heard inside the house if your windows are closed. Obviously, I would orient things to the n/w and the river. I do not see a neighbor from hell here. The closest neighbor is about 300 yards.

PROBLEMS

If Lake Sonoma blows, it looks like it might come as high as the pavement on Westside Road. I assume this is the worst case as engineers are not one to minimize potential problems. My and Terry's best estimate from what we remember is that the Flood Plain had water on it in '82, '86, '95 and '97, two times. This is also why the dirt is so good. Anything in the flats is going to get wet. Mother Nature will not tell me how often. Every four to five years seems like the average.

RESOURCES

We try to provide information to keep a Buyer out of trouble. I have contacted the following:

SOTOYOME RECOURCE CONSERVATION DISTRICT (707-569-1448)

This is a non regulatory district we are in. Their function is to help coordinate and educate. Kara pointed out some Arundo next to the river. It looks like bamboo. Planting it was encouraged in the '40's for bank control. Government grants are available to eliminate it. She also noticed some Himalayan Blackberry intermixed with the native blackberry along the fence as you go down to the river.

VINCA

Is a non native plant which is used as a ground cover. It is along the bank but goes no further than the tree canopy. It is a host for the bug that carries Piersons Disease.

VALLEY OAK

Is found along the river and is protected. It is the one that produces the oak balls.

CALIFORNIA REGIONAL WATER QUALITY CONTROL BOARD
(707-576-0220)

They have teeth. Gail Davis came to the site and indicated that removing the Vinca was logical as it was not native. The setback should be 100 ft. from the river bank and the tree canopy should not be violated by planting. She also found that the small run-off on the s/e side of the building site was not a Blue Line Stream. The ditch that runs along the Water District facilities on the east side was put in with a government grant.

CALIFORNIA FISH AND GAME

I talked to Bill Cox, Biologist (707-823-1001) and described what the situation was. He did not feel a visit was warranted.

CIRCUIT RIDER PRODUCTIONS (707-838-6641)

Their function is the implementation of work done in these areas. They have an excellent reputation and are familiar with the grant process. I talked to Rocky Thompson.

LUCY MACMILLAN (415-389-9199)

Is a Wetlands and Regulatory Compliance Specialist. Lucy came to the site. She charges $90 per hour for doing a biological constraints analysis. They typically run from $5,000 to $6,000.

None of the above have seen any serious problem to planting.

SURVEY

This has probably been farmed for about 150 years. Recent survey work was done in 1976 by Doble Thomas. The reconfiguring of the land was done in 2000 by Curtis and Turk. There are many survey monuments on the property.

ZONING

It can not be divided. The primary zoning in the area is RRD 20 acre minimum. It is a common broad based designation which allows a variety of logical things in this type of area. You can build a residence and a granny.

SAFETY AND CRIME

As the dump fees go up, there are some people who you would not invite home for dinner that will dump things on any country road.

CONSERVATION EASEMENT

It looks like a potential tax benefit to the buyer.

WILDLIFE/FISHING

Deer, pigs, turkeys, ospreys, shad, salmon, trout, steelhead, owls, mice, raccoons, possum, squirrels and so forth. The story's about wild pigs being dangerous are hog wash unless you have a boar cornered with dogs. Then he is smart enough to figure out who the heart of the problem is and he might take a run at you. My children used to catch baby pigs and tame them and sell them for part of how they made a dollar.

REAL ESTATE TAXES

Would be about .013 of the purchase price. It is not in a Williamson Act but it looks like you could get at least 2 neighbors together with you and qualify. That would reduce the taxes on the area not around the house to about 25% of normal. The 2 or 3 acres near, and the residence, would be appraised at normal rates. The savings could be considerable.

SHOWN BY APPOINTMENT

Or if we talk, I might give you the combination to the gates.
GPS N38° 60' 16.6" W122° 53' 59.0"
AP# 110-280-022
Guerneville Topo Section 30
Thomas Brothers Map - Sonoma/Napa Page 362 D3
The above has been gathered from many sources. We try hard, but we are not perfect. Please consult with everyone you can think of.
Joe White - P.O. Box 728 - Healdsburg, CA 95448
Tel: (707) 431-2151 Fax: (888) 688-4021
Copyright © 2004 Joe White Real Estate Broker All Rights Reserved.
Site designed and maintained by Web Design & Consulting